About the EcoNurse Site
"How can communicative and creative technologies be used to stimulate meaningful engagement with ecological, sustainability, environmental and quality of life dialogue and praxis in nursing and society at large?" (The Driving Question that motivates this Website).
This site was initiated by June Kaminski, RN MSN PhD(c) in response to a perceived need to engage nursing students, and the nursing profession as a whole in dialogue, praxis, and action to boost ecological awareness in society at large. In time, this site will grow to include research, resources, communications, creative expression, lobbying, and other activist activities intended to spur a keen ecological awareness in all who visit.
This site also serves as a dissemination portal and engagement medium for BSN nursing students who elect to participate in online research and activist initiatives that will expand the robustness and utility of this site.
Even though this site has sprung from Canadian nurses, we encourage nurses from around the globe to partake and perhaps contribute to this initiative and in spreading the word to other nurses, clients, and communities. We can reach a critical mass that will in turn create a wave of awareness across the globe. Society tends to put a lot of faith in nurses - they trust us. If they hear about these issues from our lips and read our words, perhaps this serious crisis will achieve new meaning and importance in the public eye. The time for sleeping or trying to sweep the problems under the rug are past. There ARE solutions, there have been for years. It is time now for sustainability and quality of life to be the deciding factors in business, economics, and society - rather than profit and monopoly.
Author Bio
June Kaminski has taught in the BSN nursing program at Kwantlen Polytechnic University in British Columbia, Canada since 1989. She is now the Program and Curriculum Coordinator of the BSN Post Baccalaureate Program at Kwantlen. As well, she is the President of the Canadian Nurses for Health and the Environment, Past President and Director for the Xi Eta Chapter of Sigma Theta Tau International; Editor in Chief for the Online Journal of Nursing Informatics (OJNI); and Editor in Chief of the Canadian Journal of Nursing Informatics. From 2003 to 2012 she was the Director of Communications of the Canadian Nursing Informatics Association, and President in 2008 and 2009.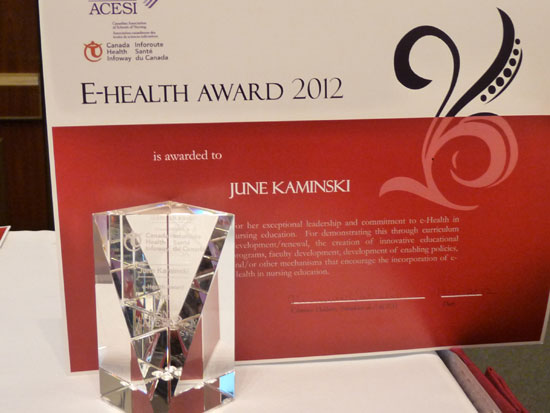 June is currently completing her PhD dissertation in Curriculum and Pedagogy Studies, in the Faculty of Education, University of British Columbia. She is dedicated to guiding students and practicing RNs in developing nursing informatics, activist, and ecological awareness skills so they can serve as leaders in the shaping of national and global health for all! She also offers another site, Nurse Activism which serves as an online repository of activist resources for nurses. June is also very involved in establishing a supportive and self-governed educational and health system for First Nations people (June has maternal ties to the Ketegaunseebee Anishnabai, Garden River First Nation, Northern Ontario), and offers resource sites called, First Nations Pedagogy Online , First Nations Pedagogy and First Nations Healing
In November 2012, June was honored to receive the Canadian Association of Schools of Nursing (CASN) and Canada Health Infoway's inaugural Nursing Faculty E-Health Award 2012 in Ottawa Canada. This award competition was aimed at supporting nursing school faculty who demonstrate exceptional leadership and commitment to e-health in nursing education. This award is a component of Canada Health Infoway's Clinicians-in-Training Initiative, aimed at improving the preparedness of graduates to work in a technology-enabled environment.
READ THE CONTRIBUTING STUDENT BIOS.....
Important Issues
Important Links
Important Solutions
We must find the time and space to dialogue, reflect, engage in both praxis and action, to collaborate and support one another to raise public awareness as well as our own, in order to protect this planet we call home. This is a critical time in history where action is crucial if we are to preserve our quality of life for ourselves and for future generations.